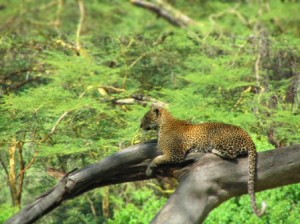 Add a Safari Trip on top of your yoga holiday package:
Itinerary:
Lake Manyara/Serengeti/Ngorongoro (4 days/3 nights)

Day 1 : Moshi/Arusha – Lake Manyara
This morning you will depart for Lake Manyara National Park.  Spend the afternoon on a game drive of this park, described as one of the hidden gems of Tanzania.  This park is famous for its tree climbing lions and large herds of elephant (which are not shy to come straight up to the vehicle).
Overnight at Lake Manyara
Day 2 : Lake Manyara – Serengeti
After breakfast drive to one of the most famous game parks in Africa, the Serengeti.  Here is home to millions of wilderbeest during the migration and over the huge flat plains you are likely to find lion, cheetah, leopard, hyena and many other small predators.  All afternoon will be spent on game drive before enjoying dinner and the experience of sleeping in the middle of the Serengeti.
Overnight in Seronera (the centre of the Serengeti)
Day 3 : Serengeti – Ngorongoro Crater
An early morning start in the Serengeti to try and find cats before they retreat away from the blazing sun during the day.  After a few hours game drive in the Serengeti drive to the Ngorongoro Crater.
Overnight at the rooftop of the Ngorongoro Crater
Day 4 : Ngorongoro Crater – Arusha/Moshi
This morning you will descend into the Ngorongoro Crater – a wonderful haven for wildlife.  Ngorongoro is unique in that almost all the wildlife live within the crater walls hence you have the opportunity to find game easily.  Rhino, in particular, can be seen regularly as well as prides of lion and other predators like cheetah.  Enjoy lunch by the hippo pond before commencing your drive back to Arusha and then Moshi.
Costing :
Lake Manyara/Serengeti/Ngorongoro (4 days/3 nights)
Costs :
Based on 1 person in the vehicle : USD$2750
Based on 2 people in the vehicle : USD$1640 per person
Based on 3 people in the vehicle : USD$1320 per person
Based on 4 people in the vehicle : USD$1100 per person
Based on 5-6 people in the vehicle : USD$1050 per person
Suggestions on things to bring :
* Binoculars (if you have them)
* Sunglasses, hat and sunscreen
* Warm clothes for your evening at Ngorongoro Crater
Camping safari inclusions :
All game drives, transport, park entry fees, camping fees, driver/guide, cook, all food, drinking water and camping equipment (including sleeping bags if you don't have your own)
Additional costs :
Tipping to your driver/guide and cook.  The recommended is approx USD$30-$40 per day to the driver/guide and USD$15-$20 per day to the cook.  This is split between everyone in the car.